The Feel-Home Apartment is an exclusive, 2-room apartment with roughly 50qm and offers you a timely flexible stay in Munich

The apartment offers you a spacious main area with a fully equipped kitchen, dining area, living and working area. In addition there is a fully separated bed room and a bath room with window. The floors are either built out with premium granite or wooden floor. The walls are color-coordinated and transfer a warm ambience.

As a matter of course the heating is done via a controllable under-floor heating system.
The entrance offers sufficient space for coats, jackets and shoes.
The windows have mainly electrically operated roller shutter.
A parking space is located just in front of the apartment.

Layout of the apartment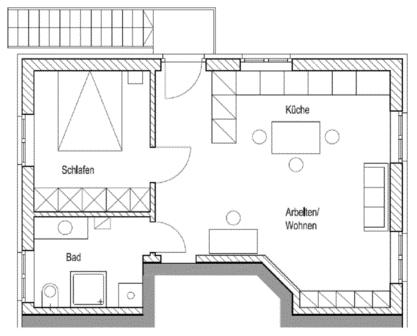 Kitchen


The spacious, fully equipped elegant kitchen from Nolte leaves nothing to be desired and significantly differentiates the Feel-Home Apartment from other scarcely equipped kitchenettes.
All major devices are quality products from Siemens
- Refrigerator with 3*** freezing compartment
- Electric cooker
- Ceramic stove top
- Stainless steel sink with design faucet
- Dishwasher
- Large assortment of tableware, cutlery and cooking accessories.

Living / Working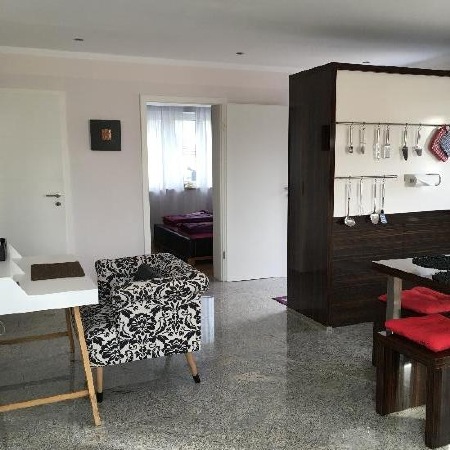 The couch is easily convertible into a bed (1,20x2,00m). The 42" Flat-LCD-TV with its Satellite access offers you plenty of national and international programs and even has an integrated
DVD-Player.
Your laptop and your documents find enough space on the davenport. For internet access a free-of-charge LAN connection
via VDSL (25Mb/s) is available.


Bath:


The day starts in the bath room and you should feel home there. The modern, warm style of the interior is continued in the bath room. For comfort reasons an additional towel radiator
is available.
- Exclusive wash stand with design bowl
- Design toilet with top cover lowering automatic
- Glass shower 90x90 cm
- Cabinet
- Hair dryer
- Washing machine


Sleeping

The bed room has a 1,60x2,00 m leather bed with comfort mattress. The large wardrobe with sliding doors features plenty of space for cloths, travel bags and even retains a vacuum
cleaner, a ironing board and an electric iron.
The clock-radio with CD player allows you to start the day withyour favorite music.